Birch Coffee (5 East 27th Street at the Gershwin Hotel) is hosting the 2nd annual Arrested Development marathon, showing every single episode from one of the best tv comedy series ever. While it won 6 Emmy awards, a Golden Globe, and was named by TIME as one of the 100 best TV series of all time, it seemed to go under the radar of most people.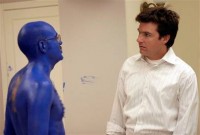 If you have not see it, it's definitely worth watching (ideally from the beginning). It stars Jason Bateman, David Cross, Michael Cera, Portia de Rossi, Jeffrey Tambor, Will Arnett, and Ron Howard with voiceover, among many amazing cameos.
It runs noon to 9pm on both Saturday, January 1st and Sunday, January 2nd and they will have nonstop food and drink specials. See more at www.birchcoffee.com/happenings.php.
Relive the great moments…Tobias trying out for the Blue Man Group, the Cornballer, 'light treason' for using the family business to build palaces for Saddam Hussein.
Related Posts: